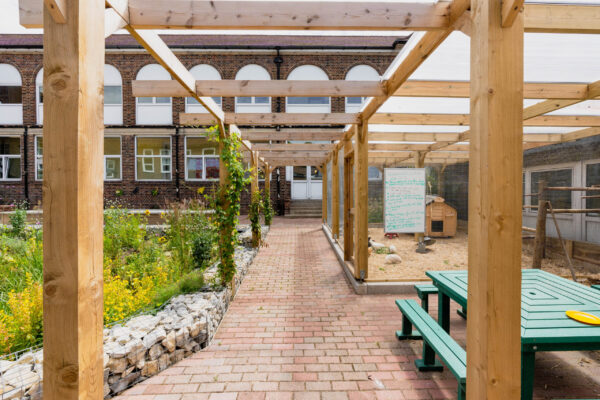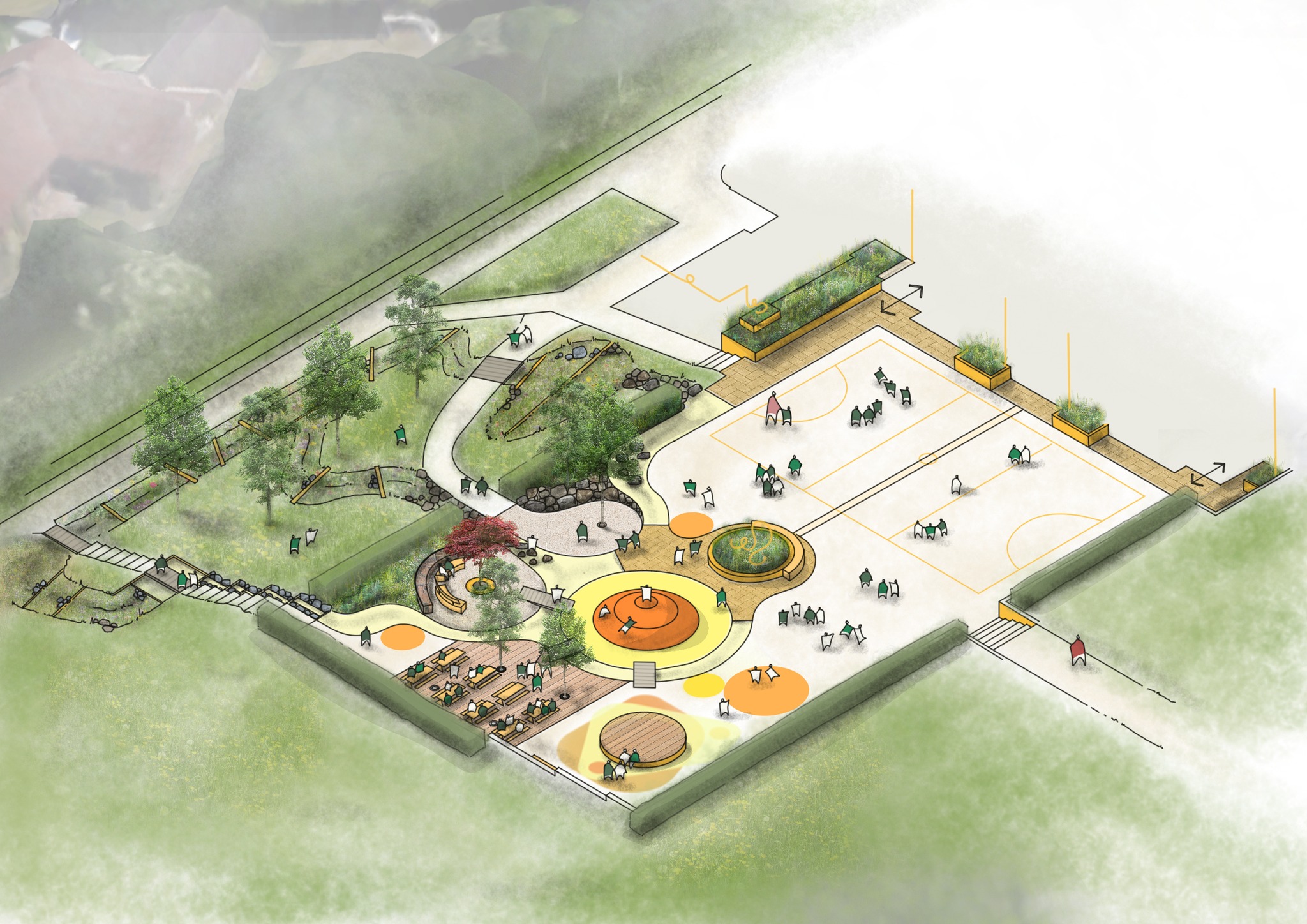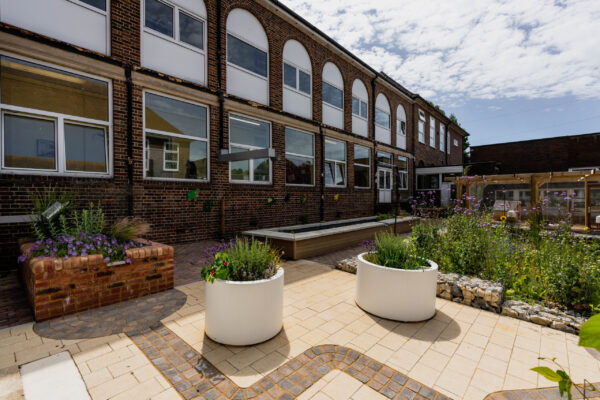 VU GARDEN DESIGN & LANDSCAPING
AWARD-WINNING COMMERCIAL LANDSCAPING
At Vu, we are proud to offer an extensive range of professional commercial landscaping services, drawing on our 30 years of combined experience in the industry. From contemporary outdoor dining to beautiful courtyards and hard landscaping, we can help bring your commercial space to life. Our award–winning team have transformed many public spaces, building complex and innovative rain gardens for schools in Brighton and Lewes. Our experienced team can provide you with tailored solutions that meet your specific needs and requirements, ensuring that your commercial space looks beautiful and inviting. With our commitment to quality and customer satisfaction, you can rest assured that your project is in the best hands.
WHAT DOES COMMERCIAL LANDSCAPING INCLUDE?
Commercial landscaping includes a variety of elements to transform your outdoor space into one that is as inviting as it is attractive, this includes:
Living Elements
Commercial landscaping is an excellent way of designing an outdoor space that softens the harsh architectural lines that often come with a commercial building and its surroundings. Using plants, shrubs, grasses and other living elements, landscape designers can seamlessly bring balance to an otherwise potentially boring or harsh appearance.
Integration of Natural Elements
As experienced commercial landscapers, we at Vu know that the inclusion and integration of artificial water bodies such as ponds and fountains can create a soft and natural feel within your outdoor environment. Whether you have a restaurant business or are a local authority, these elements are a great choice.
Manicured & Tidy
If you are seeking a manicured and tidy appearance for your commercial outdoor space, then a commercial landscaper can plant lawns and natural fences, as well as offer maintenance that includes fertilizing, weeding, mowing, and pruning to maintain a manicured look.
WHAT HAPPENS WHEN YOU HIRE A COMMERCIAL LANDSCAPER?
Once you've chosen your commercial landscaping company, the process to your new and thoughtfully designed outdoor space can be completed in 4 simple steps…
WHY USE A COMMERCIAL LANDSCAPER?
Whilst it is possible to undertake your commercial landscaping yourself, for you to get the most out of your outdoor space for your business, we highly recommend employing a team of commercial landscapers for a broad range of reasons. Here's why…
Innovative Design
Innovative design is one of the most important elements to creating success for your business. A commercial landscaper will listen to the needs of your company or business and will translate this into a comprehensive design that seamlessly balances function and aesthetics by using materials and plants that complement their surroundings.
Knowledgeable
A designer has a huge amount of experience and can expertly consider elements of colour, texture, materials and other features to create an outdoor space that works in harmony. Taking advantage of a designer's knowledge means that you can have the peace of mind that everything has been designed with you, your company and your customers in mind.
Attention to Detail
Commercial landscapers pride themselves on high levels of attention to detail which means that your project will be completed to exceptional standards. Furthermore, a designer will use the right plants in the right areas of your garden to promote year-round growth and well-being.
30 Years of Experience
With 30 years of combined experience, we pride ourselves on excellent craftsmanship and unparalleled results.
Award-Winning Team
We are proud to be an award-winning company for all landscape design and execution.
Nationwide Services
We offer landscaping across Kent, Surrey, East Sussex, South East London and many more!
In-House Design Service
With our in-house design service, we plan carefully and deliver your perfect outdoor space.
Range of Services
We can help with patios, decking, fencing, turfing, water features, domestic landscaping and more!
5-Year Guarantee
We offer a 5-year guarantee with all of our tailormade hardscaping projects, for your complete peace of mind.
Don't just take our word for it, take a look at our reviews to see what our satisfied clients had to say about their experience with us as their commercial landscapers.